Here's a peak into what I've been reading recently....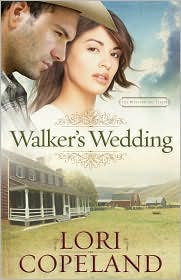 *"Abandoned by his fiancée hours before their wedding, Walker McKay is determined to never let a woman near his heart again, but he needs an heir to inherit his ranch after he is gone. Courting someone new is out of the question, so he'll have to find a wife another way.
Wealthy heiress Sara Livingston wants to be married, but her suitors are deemed unsuitable by her unreasonable father. When the opportunity to fill the bill for a mail-order bride comes her way, she grabs onto it with both hands.
Will Sara's deception and Walker's wounded heart keep them from finding what they are looking for? Or are they truly meant for one another?"
This was an easy read for me I started it Monday afternoon and was able to finish it Monday night. While searching for the photo of this book I found out it is the 3rd in a series. I was not at all lost in the storyline so perhaps they are stand alones within a series. I will definately check out the other two!
*"A carved box with two locks of hair, the title to property in Switzerland, and a burning desire to learn about her biological family lead nurse midwife Lexie Jaeger from Oregon to Pennsylvania. There Lexie pledges to help her biological Aunt Melia, a lay midwife who has been charged with manslaughter after an Amish client and her baby die. Lexie always knew she was adopted, and when she finally meets her birth grandmother, she feels she has come home-until secrets begin to unravel.secrets that could tear her birth family apart.
Lexie learns the true meaning of the Pennsylvania Dutch word demut, which means "to let be" as she changes from a woman who wants to control everything to a woman who depends on God."
I started this book Tuesday night after I had put the boys I was babysitting to bed and finished it this afternoon between my morning job and evening job. It was definately not your typical "amish" book. I loved that it was filled with mystery but not at all frightening or scary! It also isn't your usual fall in love, get married, live happily ever after story line, I would say the main focus is on forgiveness and letting things go. It is definately a must read and good for my spirit.
*"150 nutrient-packed recipes: Pizza, pasta, sandwiches, desserts, and dozens of other kid favorites.
Ask the experts: A special section for parents that includes hints for increasing—without objection—and for improving your child's physical fitness and self esteem.
Quick recipes for main dishes, sides, snacks, salads, and desserts use off-the-shelf ingredients.
Complete nutrition information with every recipe including carbohydrate guidelines and exchanges appropriate for diabetic meal planning.
No-guilt party food for any occasion."
I picked up this book looking for ideas to make foods healthier and fit more easily into my Weight Watchers plans. I am only part way through but have already jotted down some recipe ideas to try. I will definately let you know how they turn out!
*"Just because you're watching your waistline doesn't mean you need to go hungry. Recipes from Hungry Girl--like the Fiber-Fried Chicken Strips featured below--feed your every craving without piling on the calories. What's more, Lisa Lillien's lighthearted love for food and fun shines through in every recipe, making it easy to follow her healthy example and even come up with your own simple calorie-saving shortcuts. "
I have finished going this book and found a ton of recipes I'd like to try. Most of them are for 1 or 2 servings which is great since I'm doing this on my own! Again I will let you know how they turn out!
*"Tori Sanderson has the professional opportunity of a lifetime. If she can prove she's executive material, she's in line for a big promotion. But there's only room for one new account executive, and her co-worker has his eye on the job--and on Tori. Her matchmaking sisters have a handsome handyman in mind for her. But how can she consider romance when she couldn't hold on to the one man who was supposed to love her forever--her own father? The time has come for answers, and Tori decides to search out the father who deserted her twelve years ago. While Tori may find the answers she craves, will she ever be able to love again? A heartwarming story of sisters, retail therapy, and love that endures, Third Time's a Charm is the satisfying conclusion to Virginia Smith's SISTER-TO-SISTER series"
This is a book I started a long time ago and then got interrupted and just picked it back up. This is the third in the SISTER-TO-SISTER series by Virginia Smith. I've read and enjoyed the other two!
Any of you read any good books? Have you read any of these? Please let me know if you do/have! Tell me what you thought!
*DISCLAIMER: The descriptions in italics and quotations are not my own words.